Hydro Test Station
Make Sure Your Dive Equipment Is Safe
A very important aspect for all involved with the dive industry is the condition of dive equipment. The cleanliness and physical condition of dive cylinders can directly effect the safety of divers. The recent rapid increase dive tourism activities in esatern Indonesia has caused a sharp increase in the need for supporting services.
Recognising this need, PT EON Engineering has recently opened a hydro test station to international standard at our workshop in Sorong.
Tests And Services Available:
HYDRO TEST
VISUAL INSPECTION
EXTERNAL & INTERNAL CLEANING
VALVE MAINTENANCE
COMPRESSOR MAINTENANCE (All Types / Makes)
GENERAL MECHANICAL, ELECTRICAL AND WATER MAKER SUPPORT
EON prioritises safety and high quality of service in all aspects of the work carried out. To avoid dangerous the build up of aluminium oxide we use factory reccomended anti corrosion and anti galvanic compounds when reassembling the dive cylinder and valve.
Avoid Internal Contamination
The Steps That We Follow:
1. External Cleaning
Using a system that removes all labels and corrosion ( to allow full visual inspection). This process returns the surface of the cylinder to near new condition.
2. Internal Cleaning
The EON tumbling system uses a mix of water and andesitic gravel to scour the internal surface of the cylinder. This tumbling process should be carried out prior to each dive season to help maintain odourless air supply and reduce internal corrosion.
3. Visual Inspection
The standard 17 point A.S.S.E.T* visual test system is employed to allow detection of all defects.
* Association of Scuba Service Engineers and Technicians
4. Hydro Test
Is carried out using special water jacket system and an accurate purette measuring device. Hydro testing is carried out every 5 years and visual inspections shoulbe at least each year.
5. Valve Maintenance
Valve and threads are checked and lubricated as needed.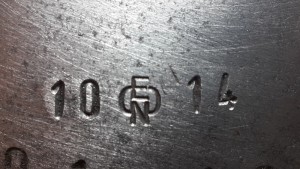 Hydro and visual test is recorded and all deficiencies are reported in our standard form. The EON hydro test mark and test date is stamped on each dive cylinder passing the hydro test procedure. Note that yearly visual inspections are recommended and regular cleaning by dive cylinder owner is essential for safety and purity of breathing air delivery.
For standard charges and contract rates please contact: